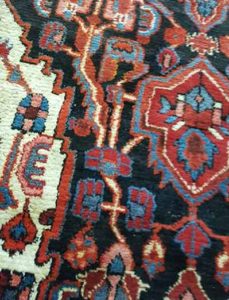 Our specialist rug cleaning service has been honed to perfection working across Solihull, Birmingham and Sutton Coldfield over the years.
We have the knowledge, experience and cleaning technology to get the best from your rugs.  Whether your rug is contemporary, an oriental rug or woollen, we clean it carefully.  Delicate rugs are no problem for us, we work carefully to remove soiling whatever it is made from.
We establish the best cleaning method to restore each stained rug.  Combining the type of rug with the type of stain, we can establish the safest and most effective cleaning technique.
It goes without saying that we can also refresh rugs that have simply not been cleaned for years, with no particular blemish.
There are several reasons why it is a good idea to drop your rug into our premises, some of which are listed below.
Specialist Rug Cleaning Benefits
We are a specialist rug cleaning company, you couldn't be in safer hands.

We carry out sensitive colour testing on all rugs to ensure there is no migration of colour or colour bleeding between different parts of the pattern.

We are able to place your rug on clips which helps to keep it in shape.
We have a vast array of cleaning chemicals which we can use to treat staining. We can also use pressurised air guns to break down stains.

At our rug care centre, we can hang them over racks to dry naturally.

We can Oxibrite all tassels if there are any present.
Get In Touch
Let us bring you the best in rug, carpet and upholstery cleaning services